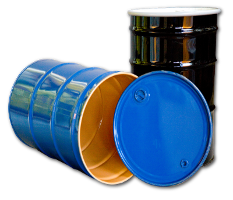 The 55 gallon steel drum is the workhorse of the container industry. A 200 Litre, 55 gallon drum is a cylindrical container, 22.5 inch diameter and 33.5 inches in height typically. These drums are made of steel and have ribbed outerwalls to improve rigidity and enable it to roll. These drums are commonly used for transporting oils,fuels,chemicals and dry goods, but can be used for a variety of products.
Tunnel Barrel & Drum offers steel drums in both Open Head and Closed Head types, along with a variety of sizes. Different ring/bolt and lever locking mechanisms are available for open head drums. These drums comply with UN regulations and performance requirements.
In stock are Lined, Unlined, Open & Closed Head Steel Drums. Most common sizes in stock are 30 gallon, 55 gallon, 17-E and 17-H.
Call us now for pricing. 201-933-1444